There's nothing we like more than smart clients. That's why we offer this library of information to help you find the answers you need, articles, and information.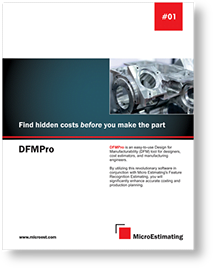 Find hidden costs before you make the part
DFMPro is an easy-to-use Design for Manufacturability (DFM) tool for designers, cost estimators, and manufacturing engineers.
By utilizing this revolutionary software in conjunction with Micro Estimating's Feature Recognition Estimating, you will significantly enhance accurate costing and production planning.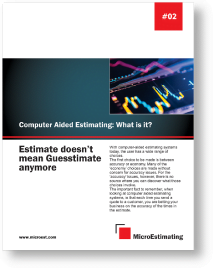 What is Computer-Aided Estimating?
What to do when "Guesstimates" aren't good enough
With computer-aided estimating systems today, the user has a wide range of choices.
The first choice to be made is between accuracy or economy. Many of the 'economy' choices are made without concern for accuracy issues. For the 'accuracy' issues, however, there is no source where you can discover what those choices involve.
The important fact to remember, when looking at computer aided estimating systems, is that each time you send a quote to a customer, you are betting your business on the accuracy of the times in the estimate.
Sheet Metal Laser Cutting with MicroEstimating
Micro Estimating Systems Sheet Metal Laser Cutting
automates the costing of parts manufactured on laser
cutting equipment. This is a quick overview of how Micro
Estimating Systems Sheet Metal Laser Cutting estimating works.
SolidWorks® Assembly Import
How to Import SolidWorks® Assembly file into
MicroEstimating. See step-by-step instructions
for preparing SolidWorks® Assembly.
Automatic Feature Recognition
With MicroEstimating, manual estimation is a thing
of the past. Integrated Automatic Feature Recognition
( AFR ) is just one of thousands of reasons
manufacturers, estimators and purchasing agents
rely on MicroEstimating Software.
MicroEstimating increases profitability and accuracy
from the minute you start using our proprietary cost
estimating software. Whether you are an Original
Equipment Manufacturer, Contract Manufacturer, Job
Shop, or a buyer of custom parts requiring Should
Costing, our manufacturing cost estimating software
can be tailored and calibrated to fit any estimating
or costing requirements